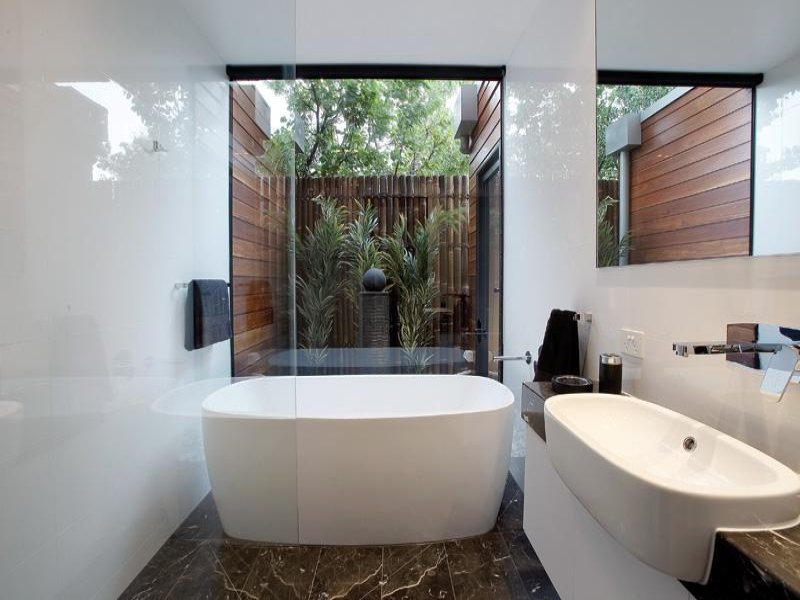 When you're planning on remodeling a small bathroom, it's important to consider some tips that will not only help you maximize the space that you have available, but that will also help give the illusion of more space. With the right remodeling strategies, you'll be able to create a bathroom that looks great, but is also able to provide the functionality that you need.
Remodeling Tips to Help Create the Look and Feel of More Space
One of the first things you'll want to consider when remodeling a small bathroom is what you can get rid of to lighten the look. This lightening should apply to more than just your color scheme. For example, a heavy or bulky vanity might be a great place to stash all of your bathroom essentials, but it takes up a great deal of valuable floor space.
Additionally, dark wood and heavy features can make a room feel small and unwelcoming. Consider replacing your bulky vanity with a sleek pedestal sink. This can dramatically open up your bathroom making it look and feel less cramped.
Of course, choosing the right paint color can also help brighten a small bathroom and give the feel of more space. Concentrate on pale color schemes to help a small space seem roomier. Neutrals, whites and pastel colors are all excellent options for a small bathroom. You can add bold touches of color with the accessories you choose.
Lighting can Make a Big Difference
A small bathroom definitely needs light. Fortunately, when you're remodeling, you'll have plenty of options. For example, a skylight can be the perfect way to bring light into a small space; however, even if a skylight is out of the question, you still have some great options. Wall sconces and pendant lights take up no counter space, but they can add a nice ambiance. Recessed lights can provide plenty of task lighting while remaining out of sight, so your bathroom maintains clean lines for a more spacious feel.
Use a Combination Bathtub/Shower
A bathtub and shower stall will each require a good amount of floor space. When you're dealing with remodeling a small bathroom, minimizing bulky items while maximizing floor space is essential. To help conserve space, consider using a bathtub/shower combination unit. You'll still be able to take a bath or shower, but you'll significantly reduce the amount of space needed in your bathroom.
A Light-Colored Floor will Help a Small Bathroom Seem Larger
When renovating a small bathroom, a light-colored floor can help the space seem more open. Just like you'll want to choose light colors for the walls, a light-colored floor is the perfect look for a small bathroom. If your remodeling budget has room for new flooring, this can be a great touch; however, if you're not ready to replace the bathroom floor, consider placing a light or neutral colored rug or another type of floor covering over your existing floor.
Strategically Use Mirrors
Mirrors not only reflect space, but they also reflect light. Well placed mirrors can help a small room seem more spacious, but they can also add some much-needed light to a small room.
Don't Over Accessorize
Sometimes the biggest impact is in the details. When it comes to decorating a small bathroom, this is definitely true. It's best to keep accessories to a minimum in order to avoid a cluttered look. A few well-chosen and well-placed accessories can add a beautiful touch to your bathroom, without making it feel too cluttered.
To Get the most from your Calgary bathroom renovations understand your space and set your budget.
To learn how AutoCAD outsourcing can enhance your remodeling project visit this site.